A few months back, I was on a soup fix – making myself all kinds of soups. Not only is it super simple to make, but it is quite filling and works well when you don't want to make a traditional meal. Toast a couple of slices of bread and you have yourself a quick dinner.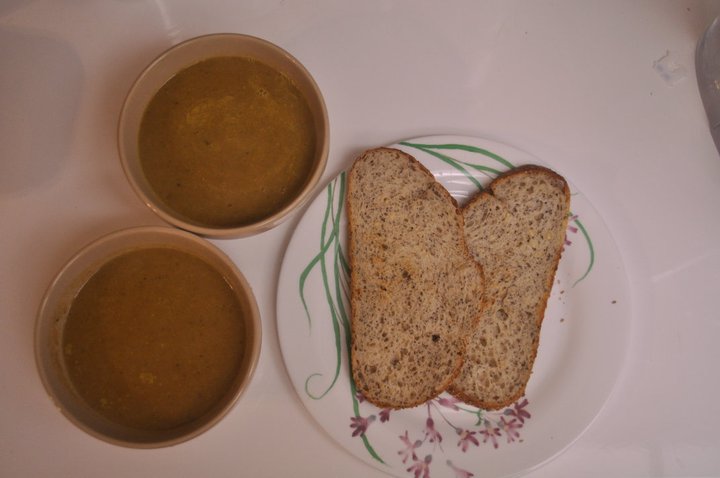 What you'll need:
2 large carrots – diced
3 stalks of celery – washed and diced
1/2 medium onion – chopped
1 clove of garlic – minced
2 tsp cumin powdeer
2 tsp coriander powder
1/2 tsp red chilli powder
1 tsp chopped basil
2 cups vegetable broth (optional)
2 tbsp olive oil
Salt and pepper to taste
How to make it:
In a big pan, saute the onions, carrots and celery in olive oil for 3-5 minutes, until the onions turn translucent.
Add the garlic and saute for another minute.
Add the dry spices (coriander, cumin and red chilli powder) as well as the chopped basil and mix well.
Add 2 cups of broth. You can use water if you don't have broth.
Add salt and freshly ground black pepper.
Cover and let it cook until the vegetables are done – around 15-20 minutes. You want them to be soft.
Using an immersion blender, blend until no chunks of vegetables are left. If you don't have an immersion blender, allow the soup to cool before blending it in a countertop blender.
Let the blended soup come to a boil and serve immediately.
Garnish with cilantro leaves or a spoon of cream.
Chef's notes:
I've adjusted the spice level to my taste. Feel free to adjust the quantity of spices to suit your palate. This soup is fairly thick due to the vegetables. You can make it thinner by adding more broth/water and allowing the entire mixture to come to a boil.