If you like pasta, and you like cheese, you might like this layered baked pasta. Simple sauteed vegetables, layered with spaghetti and white sauce, and topped with a layer of mozzarella cheese and breadcrumbs gives this baked dish a whole new meaning.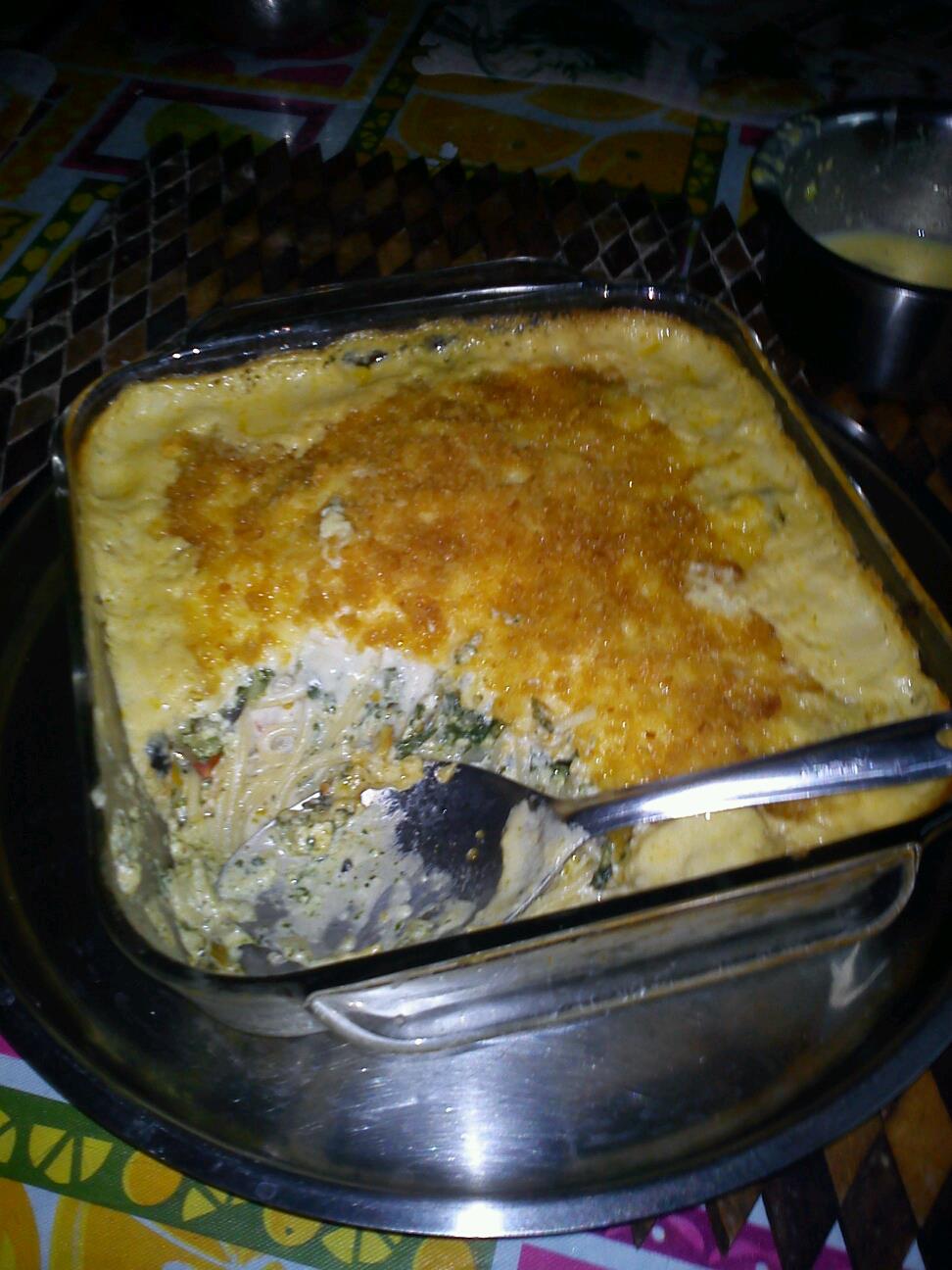 What you need:
1 medium onion, chopped and divided
1 bunch of spinach, chopped
1 cup ricotta cheese (optional)
1/4 cup sliced black olives
1/4 cup diced carrots
1/4 cup diced celery
1/4 cup chopped spring onions
1/2 cup peppers, seeded and chopped
1/4 cup frozen corn kernels
2-3 cloves garlic, finely chopped
2 tsp dried oregano
2 tsp dried basil
2 tbsp olive oil
cracked black pepper to taste
salt to taste
crushed red peppers to taste
2 cups white sauce
1/2 cup mozzarella cheese
1/2 cup breadcrumbs
1 handful of spaghetti
1 tbsp butter
Olive oil
How to make it:
First, we need to make the filling. I actually made two separate fillings, one with just onions, spinach and ricotta cheese, the other with the other vegetables, although there's nothing that prevents you from combining all the vegetables in a single pot.
Saute the onions, spring onions, carrots and celery in olive oil for 3-5 minutes until the onions become translucent.
Add the garlic and saute for another minute.
Add the spinach and cook until the spinach starts wilting.
Add the crushed red peppers, chopped peppers, corn and dried herbs and saute another 2-3 minutes.
Add the olives, salt and pepper to taste and stir.
Mix the ricotta cheese with the vegetables.
While the filling is being prepared, cook the spaghetti according to the directions on the packaging. We want the spaghetti to be cooked al dente, or firm to the bite, but not hard.
Grease a 9×9 baking dish with butter.
Spread a layer of white sauce at the bottom of the baking dish and add a layer of the vegetables.
Spread a layer of spaghetti on top of the vegetables and top this with another layer of white sauce.
Repeat this layering until all the pasta and vegetables are used up.
Top it all off with a final layer of the white sauce.
On top of the white sauce, sprinkle shredded mozzarella cheese and top it off with a layer of breadcrumbs.
Bake in a 350 F oven for 20 minutes or until the cheese has melted and the top layer has browned.
Serve hot.
Chef's notes:
You can pretty much use any vegetables or pasta or sauce in this recipe. The basic idea is to cook the vegetables to the point that they are still firm, but just starting to become soft.
I've made this with zucchini, carrots, peppers, fusili pasta and marinara sauce, with a topping of pepperjack cheese instead of mozzarella.